I know, I know...it may seem a bit soon (and scary) to already be making a fall 2010 fashion/accessories/makeup/etc. want list, but I am all over it! I have been consulting my favorite sites and stores, trying to decide on maybe 3 or 4 items I want to outfit myself with for fall.
I recycle many of my previous years items when putting together a seasonal wardrobe. And truth be told, I don't really put anything together, I more or less keep my closet the same, grabbing for the same tried and true pieces that get me through year after year. (ie. Banana Republic knee-high brown boots- staple!)
However, this year requires a new approach. I have just made the move from a small town to San Francisco, where I am continuing school. I live in a hipster neighborhood in which people at the corner fruit stand seem to be making a fashion statement. This year, I need a plan. This year, I need to adhere to a strict set of rules that will lead me to fall fashion nirvana.
Up until now, my shopping m.o. was to sneak into a store, any store, and grab at anything that seemed remotely my style and within my price range. Not this year. This year I am selective and prepared.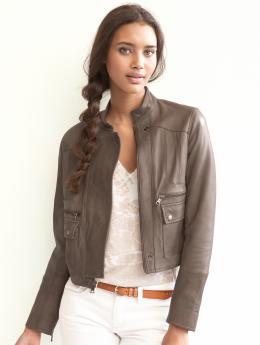 First on the list....surprise surprise- Banana Republic Heritage Leather Biker Jacket.
This jacket is gorgeous. I've lusted for a long while after this soft taupe leather number. It's pricey-coming in at almost $300, but I honestly can imagine this with everything I currently own and anything I will ever own.
Pictured here, BR has given it a more spring/summer vibe, pairing it with a white sheer blouse and white jeans. But couldn't you just see this with a pair of very dark wash jeans and a crisp white blouse? Or a LBD? Or a LWD?
Versatility should not be looked past. It is the ultimate goal of every item, and my goal of this coming season.
Next: Gap Skinny Stretch Pants.
These pants looks modern classic to me! The skinny meets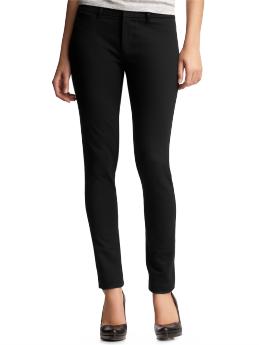 trouser has been a favorite of mine for some time, but these pants seems the fuse the two styles in a more streamlined fashion.
These pants would transition from the office to drinks to dancing, and for $24.99 (on sale!) they are a bargain.
Oh Shoes. My true love.
I own a wide variety of boots both tall and short, black, brown, and grey, leather and suede; but none of my boots are also a wedge.
The 'At Once' boot by Chinese Laundry not only is a handsome, fall appropriate ankle boot, but it's a wedge. This boot/wedge hybrid has been one of my favorite fall trends.
The futuristic vibe that I gather from the majority of these styles is a very different choice for me as I am typically drawn to the more victorian-esque styles.
But I couldn't resist these!
Following suit, I think these are: a) versatile, b) most likely
comfortable (is there a more comfortable heel style?), and
c) cost effective at $89.
Fall is a time that I look forward to, even during the long
summer days and nights. I await the days of warm wooly
layers and boots for every occasion.
What are your must haves for fall? I could go on...and just
might in another post, but for now I will stick to these pieces
that I know I would "fall" back on time and time again.