I, like most females, have a long list of products that I feel make me the best me I can possibly be. Whether your list of must haves is short or long, I think most people can think of several products that just make life easier and more fun living!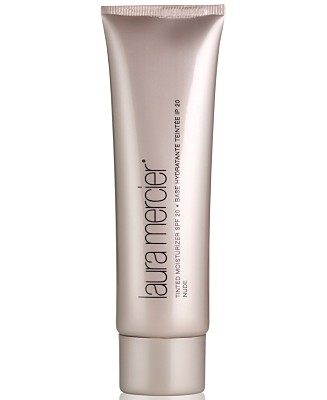 My first product is
Laura Mercier's Tinted Moisturizer
. I have read so much about this product, and I am assuming that most of you have as well, that I will not bore you with the product details. However, I will tell you that I am definitely on this products hyped up bandwagon! This is the best tinted moisturizer I have tried to date. It has a fair amount of coverage for a tinted moisturizer and it feels so good on! I prefer the normal formula as oppose to the oil free as I am dry skinned. This is a must have in the Summer and Winter...and what the hell, ALL the time! I adore it, and I can nearly promise that you will too if you give it a try!
I just recently realized my affection for the product.
Smith's Rosebud Salve
(sold at Sephora...and probably hundreds of other places!) is said to be "multi-purpose" and can be used on any dry spots, burns, and even on diaper rash! Now, I am not sure about you, but I would not slather a product that has a Vaseline like consistency on any old body part. Where I find this product really saves is my lips. I have habitually dry lips, and this stuff knocks it out! I use this before going to bed, and the next morning my lips look smooth and line free, as well as feeling rejuvenated. Another use for this product is as a lip primer. I use this before I ever put on a matte or creme lipstick and it makes it look more flawless. Plus...this stuff last forever! I've had mine for 8 months and I still have a huge amount left. Oh, and did I mention it's cheap. What's not to love? Check it out!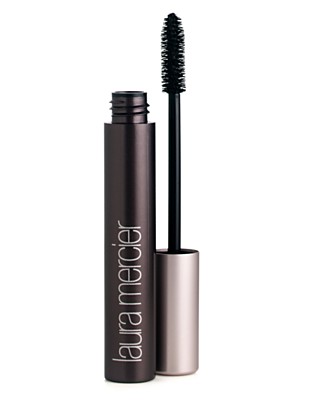 I am a self proclaimed mascara addict. I am also a mascara skeptic. You've heard of it, I've tried it! I usually find most mascaras just satisfactory. This one lengthens, but doesn't thicken; This one thickens, but it clumps; This one smells like toxic chemicals; This one is dry; This one is runny....the list goes on and on. About three months ago a friend talked me into going to a Laura Mercier event. I was talked into a lot that day...but I would have to say this was one of my favorite products I was convinced of. This is
Laura Mercier's Thickening and Building Mascara.
This mascara is the blackest mascara I have ever owned, it thickens my lashes to my hearts desire, and the best part is I have incredibly define lashes with this mascara. I never have flaking...although this has never really been a problem in general for me. I love this mascara even more than Dior Show (gasp!) and Fresh's Supernova-both of the mascaras I find comparable.
I have never been a huge fan of KMS California, but my mind has been changed just recently.
KMS Therapy Plus
is a silk enhancing hair serum that I am addicted to. I usually find serums to be oily, greasy, and altogether unpleasant; but Therapy Plus is silky, quick absorbing, and smells amazing! I put this in the ends of my wet hair, blow dry is with a defusing iron, and my hair remains silky and smooth for three days! Past three days, my hair has more problems than silkiness, but until the three day mark my hair looks so healthy. This product is not super cheap (I got mine for $27 at my salon) but it only takes a pea sized amount to do the trick and your hair will look gorgeous.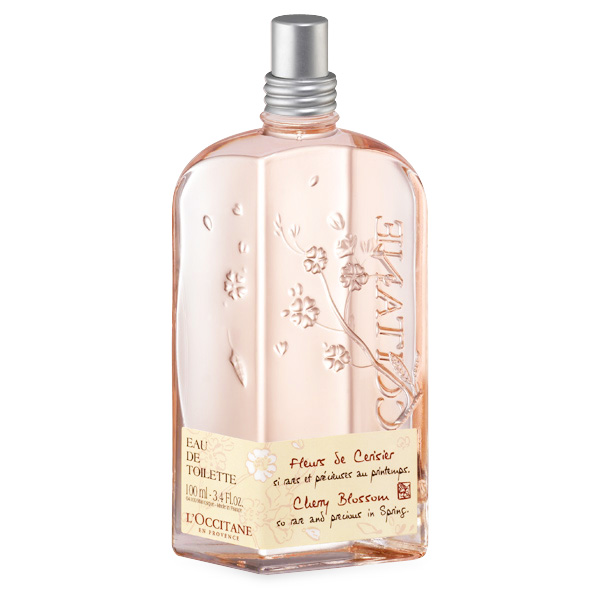 This next product is very special to me. One day last Spring I was feeling blue. My dear mom felt sad looking at her morose daughter and suggested a spur of the moment shopping spree. Clothes, shoes, and jewelry just did not seem as if they would do it for that day, so instead we headed to Sephora. Not knowing what I was going for, I felt frantic upon arriving in the store. I walked the isles of pretty packaged makeup goodies, my hands looked like a painters over used pallet, but still nothing beckoned me to take it home and love it forever. I walked to the back of the store where skin care, hair care, and tools were located. I walked into the L'Occitane isle, and my eyes became transfixed on a glass bottle filled with a blush pink liquid, embossed with flowers. When I sprayed the perfume, it was the most romantic, light, peaceful scent I had ever experienced. I kept spraying it into the air and dashing through it. It was love, pure and simple (so unlike love! haha) I bought it that day and have been obsessed since.
Cherry Blossom by L'Occitane
has been a favorite of mine for some time now, and I cannot recommend it enough! It so beautiful and airy, not to mention it is a beautiful bottle to have sitting on your dresser.
I know, this picture is appalling in it's quality, but I thought it might be nice to add something personal to my fave products list. This necklace was given to me by my grandmother. It is a collection of hand carved crosses, all of which were made by an artist in my area. The necklace has fresh water pearls and crystals on it too, both of which I love. Now heeere is the strange part: I am not religious! My father is Jewish, my mother is undecided, and although I have a strong interest in learning about religion, I myself am not a dedicated worshiper. That being said, I have always loved crosses. I think they are beautiful, and obviously they are very symbolic. I love this necklace, and I do not believe you must be religious to wear a cross. I appreciate them as art and symbolism.
This is just something pretty, after all this is Pretty Little Things! Thanks for taking the time to view mi blog. Comment! I would love to hear from you.